Products
Our hi-rail excavator equipment.
High Speed D"e"clipping trolley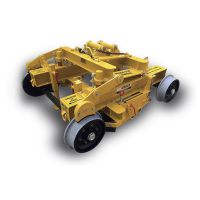 This unique, hi-rail excavator equipment was specially-developed for a number of our foreign customers as a way to remove pandrol "e" clips in a fast, labour-friendly way. It has the ability to remove clips from either side of the track or from both sides at once. The trolley improves working conditions in two main ways: it eliminates the intensive labour otherwise needed to remove these clips, and it gets the work done much faster than by hand. Needless to say, we can equip the trolley with any brand and type of quick hitch, so that you can connect and disconnect it as needed for fast hi-rail excavator re-use.
Download our High Speed D"e"clipping trolley brochure (with measurements) here.
---
Sleeper layer machine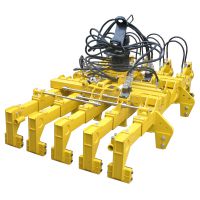 Scholman Techniek specializes in the engineering of a variety of sleeper layer machines for your hi-rail excavators. Options include hinged or extendable arms and jam sleepers. Previously, the weight of hi-rail excavator equipment was never a big issue. However, it has become increasingly challenging to build equipment as lightweight as possible following changes in Dutch legislation on 1 April 2016. Nevertheless, we have been able to downsize the weight of our sleeper layer machine from 1600 kg to 1200 kg – that is 400 kg your crane will no longer need to lift.
Click here to see one of our sleeper layer machines in action.
---
Pathway maker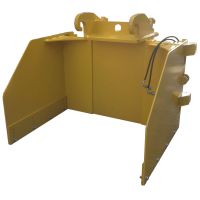 The pathway maker allows you to create kilometres of pathway next to the railway. It is hydraulically adjustable from 0.80 to 1.5 metres, and it is also perfect to use for evening ballast beside or between railroads. The pathway maker is mounted with wear plates at the bottom of the container that can be used on 4 sides. This allows you to create perfectly-aligned pathways each and every time.
---
Profile ballast machine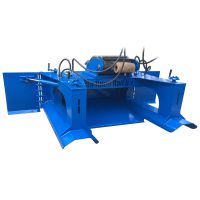 After unloading ballast, you can use this machine to even it out over the railway before the tamper machine aligns the track. It contains hydraulically-operable slides on both sides of the machine that can be used to push the ballast inwards or outwards. It also contains 4, height-adjustable wheels to acquire an even level on both sides of the track.
---
Rustremover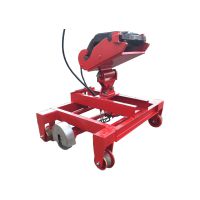 After extensive decommissioning of a railroad, it is important to clear the rails of rust. Small layers of rust can form very quickly on blank steel, and this can put the train signalling systems in danger. Our rustremover enables you to remove this with ease.
---
Railslicer and scraper
Sometimes rails are embedded within a road, such as at railroad crossings. These rails can be problematic to remove. For this reason, we have expanded our product portfolio to include a railslicer, which allows you to cut rail loose easily, and a rail scraper to remove the rails from the road.